Captain's Blog
Critter Notices
Critters Server is Dying has been Replaced
See important details here in my blog. Let me know if you find anything that isn't working right. (Manuscripts are now available for this week, FYI.)
Book Recommendation
THE SIGIL TRILOGY: The universe is dying from within... "Great stuff... Really enjoyed it." — SFWA Grandmaster Michael Moorcock
Announcing ReAnimus Press
If you need help making ebooks from manuscripts or print copies—or finding great stuff to read—look no further! An ebook publisher started by your very own Critter Captain. (And with a 12% Affiliate program.) [More]
~~~
FEATURED BOOK
~~~
News
Network speeding up
I'm switching the connection over to a new, shiny 10X faster network because of all the load. There might be bits of downtime as your boxes learn new addresses and things. Should be brief. Let me know of any prolonged outages you see.
Preditors & Editors Changeover
With the very sad passing of Dave Kuzminski, who ran P&E, I've taken over the P&E duties. Lots of what I hope are improvements; check it out at pred-ed.com.
Free Web Sites
Free web sites for authors (and others) are available at www.nyx.net.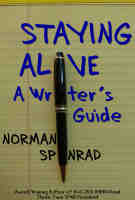 Stayin' Alive
If you want to make a career of SF writing,
STAYING ALIVE - A WRITER'S GUIDE
by three-time SFWA President Norman Spinrad, published by your Critter Captain's
ReAnimus Press
, is an indispensable guide to the inside workings of the SF publishing industry by an expert.
Free Ad for a Fellow Workshop Member:

The Critters Queue
Manuscripts themselves are here.

Queue of manuscripts out or to be sent (dates are estimated,
depending on number of mss. sent out, which depends on number of
members; probabalistically, the end of the queue is usually about
a month away):


     Title                      	Author
---------------------------------------------------------------------
Week of 23-Apr-2014 (Crits due 30-Apr-2014):
 SF  Dahkshina di Moher's Possibility Array  Fiona Howland-Rose -#23589
 SF  Wrong Cat                          Christian Roberts -#23590
 SF  First Clones---a working title---chapters 3-4  Bobbie Falin -#23591
 SF  What She Remembered, Chap. 1-2     Deborah Kaminski -#23592
 SF  The Higgs Power Plant              Juan Hernandez -#23593
 F   Where the Magic Lives              Jeffrey Hall -#23594
 SF  The Ink Android                    Jen Finelli -#23595
 SF  On the mutated Island of Britain, Sybil Butterfield met an Undead Biker Gang and Vice-Versa  Peter Huston -#23596
 F   Werewolf Investigations: Capital Kidnap  Mel Corbett -#23597
 F   A Girl in Trouble is a Temporary Thing  Elke Blackstone -#23598
 H   Catgut                             Alex Harrison -#23599
 SF  Homeland                           Alisa Williams -#23600
 F   By the Lake of Swans               Connor Moran -#23601
 SF  Tom's Folly                        Adrian Deasley -#23602
 F   Charade                            Kamaria S. Vaught -#23603
 F   Sarimanok Feather                  Annaliese Lemmon -#23604
 F   Veil of Shadows, Prologue          Bethany M. Cusick -#23605
 SF  Lucky                              Kyle Kenyon -#23606
 F   The Empress Brow, Chapter 6        Meaghan Nichols -#23607

Week of 30-Apr-2014 (Crits due 7-May-2014):
 F   Anima, Chapters 0-3                Mulyadi Cahyono
 SF  Spark Into Fire                    Matt Dovey
 H   The Not, Chapter 32                A. R. Braun
 SF  From Frying Pan to Freezer         Brian Cady
 SF  3039                               Tom Lin
 SF  Red Mountain, Chapter 1            William Webb
 SF  Testing the Equalisers             Ian Creasey
 F   Avenging Nicholas                  Robert Harpold
 SF  A Pinch in the Fabric              Larry Rachman
 H   The Clootie Tree, Chapter 1        Andrew Richardson
 F   East of the Sun and West of the Moon  Eugenia Triantafyllou
 SF  Service                            Alex Bottle
 SF  To Watch the Storms                Jonathan Byrne
 F   The Complete Handbook of Royal Etiquette: Dragons, Kidnapping and Consumption By  Aoife Farley
 SF  Nail Salons Will Kill You          Kristin Pothast
 SF  Space Station Venture: Chapter 23  Kathy London
 SF  Gorgeous Orange                    Marie Ming
 SF  Remotely Out of Control            Charles Hand
 SF  The Mechanoid Cries Within v3      Brock T.I. Penner
 H   Beautiful Bloody Duckling, Chapter 1  Kelly Calabrese

Week of 7-May-2014 (Crits due 14-May-2014):
 SF  Nothing to See Here                Arthur M. Doweyko
 H   A Life on the Rocks                Nicholas Stella
 SF  Touching Flames                    Adria Lysay
 SF  The Garden and the Little Eaters   L Chan
 F   Ogres at Alcatraz Isle             Judith Boyer
 SF  Phantom Limb                       Billy H. Peery
 SF  Into the Blue                      Marty Bonus
 SF  Mayhem at Manville                 Michael Andre-Driussi
 SF  A Dangerous Philosophy             David G. Turner
 F   Euphoria Milk seeks advice         keith Gell
 SF  Tsi of God                         Martin
 SF  Resurrection Day                   Jaroslav Makarov
 SF  Children Of Sadness Ch. 2          Fertessa Scott
 F   Faith                              Lise Dubeau
 SF  The Last Song Champion - 11        Tony Farnden
 H   Endurance                          CJ Friend
 SF  Procreation Through Productivity   Fred Obermeyer
 SF  Square Chickens                    Charlene Hansom
 SF  The Boy Who Would Fly              Adam vanLangenberg
 F   Defender: Return of the Harkers - Chapter 4  Eric J. Juneau

Week of 14-May-2014 (Crits due 21-May-2014):
 H   Guard the Park                     Matthew Weber
 SF  The Refuse Hunter's Daughter       Will Milner
 SF  Whatever Happened to Dr. Swerdlow?  Mike Flinchum
 SF  Immunity                           Aaron Gallagher
 SF  The Scunthorpe Redemption          Emma Baillie
 F   Wild Skins                         Heather Cale
 SF  The Shadowed Forest                Rati Mehrotra
 F   Beyond Ragnarok, Chapter 2         Carl Alves
 F   Locomotive Incantation Chapter 1   Lacey Shaw
 F   The Last Gift of Winter            Eric Tolladay
 SF  Age of Birds, Chapter 6            Russell de Grove
 F   Darelyth, Chapter 1                Douglas Hufnagel
 H   Soulweaver. Chapters 1 & 2         Alex Maher
 SF  Mrs Braithewaite Comes to Call     Fiona Didlick
 H   Focus                              Amanda Niehaus-Hard
 SF  To the Watchtower                  Tom McRoberts
 SF  And Miles to Go                    Clancy Weeks
 SF  Down to a Sunless Sea              Carlos Mano
 F   Warlock Chronicles: Lady Silver, Ch. 3  Bobbie Felder
 F   Shrouded Goddess, Ch 11+12         Patricia Moussatche
 F   The Clandestine Chapter 11         Darla Jackson
 SF  Left Behind: a Biopunk Story       Vanessa Fogg
======================================================================
      (Note, if the last week above looks abnormally large, it probably
      needs me to add a new week, a task I do manually when I get around
      to it.  Future critique dates are approximate and subject to change.)

Symbols:

[@] - Pro [SFWA/HWA] author
[*] - Extra week(s) for holidays/aburt-out-of-town.
[mpc] - Most Product Critter Award winner
[!] - Special non-Wednesday dates because Critter Captain will be out of town
[ERROR!] - This means there is a problem and your manuscript will NOT be
     sent out - Contact the Critter Captain ASAP if you see this by your name.

Waiting to enter Queue (Will enter at end of queue on "[date]"):
 YA  Enchanter RFDR                     E. B. Pike [?]
 M   The Shot                           Zimbalist L. Odhams [?]
 M   The Shot                           Zimbalist L. Odhams [?]
 L   The Six Samurai Chapters 1-3       John Endris [?]
 F   Our Father, Chapter 1              Brandon Byes [?]
 SF  Terra Prime: Fall of a Federation [?]
 SF  Rats in Space [?]
 F   Dollhouse of the He, Chart [?]
 L   Violin Playing Robot               Chrissie Wranja [?]
 F   Defender: Return of the Harkers - Chapter 5  Eric J. Juneau [14-May-2014]
 SF  Bob, Michah, and Alice: Untested Love  Peter Huston [30-Apr-2014]
 SF  Moonship _Chapter One_             Charlene Hansom [14-May-2014]
 SF  Theodore Bear                      Adrian Deasley [30-Apr-2014]
				-+-

Held until participation ratio improves (then out that week):
 H   Hand of Satan                      Gabrial Soh [19-Mar-2014]
 F   Outrun The Competion               Ed Bang [19-Mar-2014]
 F   HighRunner, Chapters 1-4           Joy L. Gibson [26-Mar-2014]
 F   The Absolute Chapter One The Game of Life  Steve Crews [09-Apr-2014]
 F   Connor, Savior of Damsels in Distress  Rebecca Sivils [16-Apr-2014]
 F   How to make them scream            Hugo Guérin [16-Apr-2014]
 SF  The Gods That Punish - Chapter 1   Edward Paul [16-Apr-2014]
 SF  Waking Up Is Hard to Do            Steven Thomas Howell [23-Apr-2014]
 F   Aquarius chapter 1-11              Maya [23-Apr-2014]
                                :::


>> Note 1:  Held manuscripts are removed after four weeks on hold and
>> must be resubmitted.

>> Note 2:  It is the *author's* responsibility to notify Aburt when
>> they have brought up their critique count and want their ms. sent out.







[Click here to see the queue including archival data from 1995.]