Captain's Blog
Critter Notices
Critters Server is Dying has been Replaced
See important details here in my blog. Let me know if you find anything that isn't working right. (Manuscripts are now available for this week, FYI.)
Book Recommendation
THE SIGIL TRILOGY: The universe is dying from within... "Great stuff... Really enjoyed it." — SFWA Grandmaster Michael Moorcock
Announcing ReAnimus Press
If you need help making ebooks from manuscripts or print copies—or finding great stuff to read—look no further! An ebook publisher started by your very own Critter Captain. (And with a 12% Affiliate program.) [More]
~~~
FEATURED BOOK
~~~
News
[It's Freebie Friday in the
Critters Store
...]
Preditors & Editors Changeover
With the very sad passing of Dave Kuzminski, who ran P&E, I've taken over the P&E duties. Lots of what I hope are improvements; check it out at pred-ed.com.
Free Web Sites
Free web sites for authors (and others) are available at www.nyx.net.
New Book from a Critter Member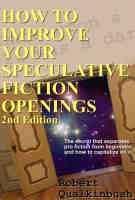 **NOW IN
PRINT EDITION
TOO!** Awesome new book,
HOW TO IMPROVE YOUR SPECULATIVE FICTION OPENINGS
, from a Critter member whose unearthed a shard of The Secret to becoming a pro writer. Really good piece of work. "...if you're at all concerned about story openings, you'd be nuts not to read what Qualkinbush has to say." —Wil McCarthy, author of BLOOM and THE COLLAPSIUM
Space Travel for SF Writers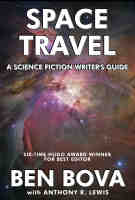 Hot off the presses from ReAnimus Press! Space Travel - A Science Fiction Writer's Guide— An indispensible tool for all SF writers that explains the science you need to help you make your fiction plausible. (Also via Amazon)
Free Ad for a Fellow Workshop Member:

The Critters Queue
Manuscripts themselves are here.

Queue of manuscripts out or to be sent (dates are estimated,
depending on number of mss. sent out, which depends on number of
members; probabalistically, the end of the queue is usually about
a month away):


     Title                      	Author
---------------------------------------------------------------------
Week of 5-Mar-2014 (Crits due 12-Mar-2014):
 SF  April Blizzard                     [mpc] A.R. Farryn -#23420
 SF  No-Brainer                         Richard Zwicker -#23421
 F   Ugly, Chapters 7-11                Russell Adams -#23422
 SF  Men of Iron                        Joe Walker -#23423
 F   The Last Song Champion - 9         Tony Farnden -#23424
 F   Cursed                             Galen Surlak-Ramsey -#23425
 F   The Archangel of May               [@] Rebecca Lyons -#23426
 F   Only The Whale Stands Between Me and England  Douglas Kolacki -#23427
 SF  The Fourth Law of Robotics         Charles Hand -#23428
 F   Shadow in the Empire of Light, Chapter 1  Jane Routley -#23429
 F   Ballads of Ealaidh: Resonance      Jennie Brass -#23430
 H   Phase II                           Frank Oreto -#23431
 F   The Perilous Path, Chapter 1       Wayne J. Harris -#23432
 F   Persephone, Prologue, Chapters 1-3  Ben Lacy -#23433
 SF  The Traveler, Chapter 1            Gregory Sliwoski -#23434
 F   A Most Unsuitable Match            Jason Loch -#23435
 H   A1Z1: The Turning Chapter 1-2      Cris Holder -#23436
 SF  The Mechanoid Cries Within         Brock T.I. Penner -#23437
 F   Pawn of the Gods                   Andrea Franco-Cook -#23438
 SF  A Simple Line                      Sean fife -#23439

Week of 12-Mar-2014 (Crits due 19-Mar-2014):
 SF  Smoked Meat                        Kent Jones
 SF  Age of Birds, Chapter 4            Russell de Grove
 F   Defender: Return of the Harkers - Chapter 2  Eric J. Juneau
 F   The Opera Shark                    Karen Blaha
 SF  Chocolate Strychnine               Thomas Grayhorse
 SF  Gods of Barn-World, Parts 1-4      evan austin
 F   The Diabolical String              Hannah S. Ruttle
 F   Despair _Ch.1-2_                   Lee Dailey
 F   Cage of Bones, Chapters 3+4        Areeb Ahmad
 H   Rules are Rules                    Matthew Weber
 F   Within the Mists                   Wendy Salmon
 SF  The Astrotheometrist               Dom Dulley
 F   The Angel's Charlie, chapter 1     Chris Kenworthy
 SF  Five                               Z.M. Quynh
 F   Princess Moxie: Moxie's Reality    Hank Quense
 SF  The Ballroom                       Jeffrey Hall
 SF  The Curious Case of Ms. Fudge      Steve Donnelly
 F   The Diocese of the Dog             Alyssa A. Motylinski
 F   Moon on the Water                  Matthew Lee
 SF  Subway Hero 2.0                    Theo Gerken

Week of 19-Mar-2014 (Crits due 26-Mar-2014):
 SF  Death is a blindfold               Rati Mehrotra
 F   The Messe'Dahnah                   Alexander Leger-Small
 SF  What You Bind                      Charles Payseur
 F   What Fills a Chest                 Ryan Holmes
 SF  The Gods That Punish - Prologue    Edward Paul
 SF  Tempus Fugit                       Ralph M. Ambrose
 F   Shrouded Goddess_chapters 8+9      Patricia Moussatche
 H   Hand of Satan                      Gabrial Soh
 SF  Call Her Luna                      Kade Moore
 SF  Bex and Bindo Chapters 1-4         Marlan Smith
 SF  Field Trip                         Neal Williams
 F   Park at Your Own Risk              Mary Sexton
 SF  Fasterpiece                        Ian Creasey
 SF  Entanglement                       David G. Turner
 SF  Uman Bean                          Nikhil Sekher
 H   The Not, Chapter 31                A. R. Braun
 SF  Canny King Harry and a Chip of Flash  John Barefield
 F   Markings                           Fred Obermeyer
 F   The City in the Sky                Ty Hayes
 SF  Thirty Eighth                      G. A. Miller
 SF  The Loom of the Blatja             Madison Culler
 F   Johnny, The Best Writer In The World  John Frye III
 F   Outrun The Competion               Ed Bang
 SF  Searching For Christopher Grao     Gary Goodson
 SF  le Catalogue Des Objets Déplacé  David Gallay
 SF  Antwerp                            Clem Taylor
 SF  Alien Foster Brother               Marie Ming
 F   Elven Suicide                      Zac Arnold
 SF  Agency                             Jen Finelli
 F   Erica's Promise                    Dona Watson
 SF  The Journey of the Flame - RFDR + Sample Chapters  Larry Allen
 F   Build Your Boat                    Nora Moseman
 F   The Clandestine Chapters 5-7       Darla Jackson
 SF  It All Endures, Unbroken, Forever  Matt Dovey
 SF  The Egg                            Levi Jacobs
 F   Werewolf Investigations: Capital Kidnap  Mel Corbett
 H   When We Loved You                  Ed Kratz
 H   The Withered Parts of Usman Al-Hajub  Jon Hurwitz
 SF  Titanborn                          Rhett Bruno
 F   Dragon Flame, Chapters 1-3, RFDR   Melanie DeWitt
======================================================================
      (Note, if the last week above looks abnormally large, it probably
      needs me to add a new week, a task I do manually when I get around
      to it.  Future critique dates are approximate and subject to change.)

Symbols:

[@] - Pro [SFWA/HWA] author
[*] - Extra week(s) for holidays/aburt-out-of-town.
[mpc] - Most Product Critter Award winner
[!] - Special non-Wednesday dates because Critter Captain will be out of town
[ERROR!] - This means there is a problem and your manuscript will NOT be
     sent out - Contact the Critter Captain ASAP if you see this by your name.

Waiting to enter Queue (Will enter at end of queue on "[date]"):
 YA  Enchanter RFDR                     E. B. Pike [?]
 M   The Shot                           Zimbalist L. Odhams [?]
 M   The Shot                           Zimbalist L. Odhams [?]
 L   The Six Samurai Chapters 1-3       John Endris [?]
 F   Our Father, Chapter 1              Brandon Byes [?]
 SF  Terra Prime: Fall of a Federation [?]
 SF  Rats in Space [?]
 F   Dollhouse of the He, Chart [?]
 L   Violin Playing Robot               Chrissie Wranja [?]
 F   The Last Song Champion - 10        Tony Farnden [12-Mar-2014]
 F   Cage of Bones, Chapter 5 _Interlude_  Areeb Ahmad [19-Mar-2014]
 H   Secret Ballot                      Frank Oreto [12-Mar-2014]
 H   Suzie's Dead End                   Matt Weber [19-Mar-2014]
 SF  The Ink Android                    Jen Finelli [26-Mar-2014]
 F   Defender: Return of the Harkers - Chapter 3  Eric J. Juneau [19-Mar-2014]
 SF  Defender: Return of the Harkers - Chapter 4  Eric J. Juneau [?]
 SF  Defender: Return of the Harkers - Chapter 5  Eric J. Juneau [?]
 H   Wherefore Art Thou, Werewolf       Richard Zwicker [12-Mar-2014]
 SF  Twins                              Charles Hand [12-Mar-2014]
 F   The Philosopher's Stone is Missing from the Smithsonian  Douglas Kolacki [12-Mar-2014]
 SF  The Gods That Punish - Chapter 1   Edward Paul [26-Mar-2014]
 F   Ugly, Chapters 12-15               Russell Adams [12-Mar-2014]
 SF  New Antwerp;                       Clem Taylor [26-Mar-2014]
 F   Deathsong                          Zac Arnold [26-Mar-2014]
				-+-

Held until participation ratio improves (then out that week):
 SF  Eclipsing Drones                   Jude Diamond [08-Jan-2014]
 F   Elvankor CH1                       Ryan Voelkel [08-Jan-2014]
 F   Grindron, Prologue-Chapter 2       Vijay Narasimhan [08-Jan-2014]
 F   Candle Section 1                   Ben Fraser [08-Jan-2014]
 SF  Truth and Light Chapter 1          Paul Cucinotta [15-Jan-2014]
 H   The Deliquent                      kimberly burks [15-Jan-2014]
 F   The King of Shadows, Chapter 1     Beth Godfrey [29-Jan-2014]
 SF  The Last Fairy, Prologue - Chapter 2  Edward Lowell [29-Jan-2014]
 F   Fire Wives                         Jeff Black [05-Feb-2014]
 F   Untitled First Fantasy Novel CH.1  Nicholas J Chira [05-Feb-2014]
 F   The Do-Over                        Daniel A. Willis [12-Feb-2014]
 F   Striking Chains, Ch.2-3            Kris Schnee [26-Feb-2014]
 SF  Insignificance At A Distance       Philip Stetson [26-Feb-2014]
 H   Small Treasures                    Neil Murrell [05-Mar-2014]
 SF  Hooray for Hollywood!              Carlos Mano [05-Mar-2014]
 F   The Black Tail, Chapters 2-3       Bee-Lee See [05-Mar-2014]
 F   Elmjack The Legend, Chapters 1-6   Daryl Gray [05-Mar-2014]
                                :::


>> Note 1:  Held manuscripts are removed after four weeks on hold and
>> must be resubmitted.

>> Note 2:  It is the *author's* responsibility to notify Aburt when
>> they have brought up their critique count and want their ms. sent out.







[Click here to see the queue including archival data from 1995.]