error_reporting (E_ALL ^ E_NOTICE); if (!$name) { $name="Critters"; $textonly=1; } ?> if (!$newspage) include("/home/httpd/html/users/critters/notices.inc") ?>
Bloggy Bits
Ben Bova's THE CRAFT OF WRITING SCIENCE FICTION THAT SELLS is out from ReAnimus Press
Dec 16, 2011 [permalink]
This is one of the books I found really helpful when I was starting out so I'm happy we get to publish the ebook of it at ReAnimus Press. It's at: http://reanimus.com/store/?item=1144 and also on Amazon.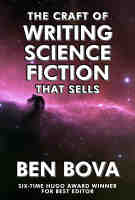 Ben won the Best Editor Hugo award six times and is a bestselling author, so he really knows what works.
I highly recommend this one for anyone writing science fiction (or any kind of fiction) who wants to take their writing to the next level.